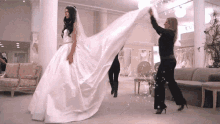 You want to say yes to the dress, but don't know where to start? Or maybe you aren't a fashionista and need a little help. These questions can help you.
Does my wedding date present any limitations?
Does the dress you have fallen in love with take 6 months to order and your wedding is in 5 months? Does the shop offer expedited shipping? If so is that in the budget.
2.What do you (bridal consultant) think will look flattering on me?
You may have been dreaming of a ballgown your entire life, but what if a mermaid style dress make you look AMAZING! Just try on the consultants recommendations, even if you don't think its THE ONE. You may be surprised.
3. How customizable is this dress?
You may love almost everything about a dress, BUT you want straps or sleeves. Can they be added? Do you need more SPARKLE??? Do you need less cleavage? These are all things that you want to consider.
4. Are alterations included? What is the average cost?
Most of the time alterations are not included in the price of the dress. Be sure to ask a ball park figure of how much alterations are going to be.
5. Are there any trunk shows coming up?
This can be a great way to get the newest styles and perhaps a good deal. Besides, who doesn't love a good trunk show?
6. If I delay in buying the dress, will it be here when I decide?
This is a major questions people! If you are like me and want to sleep on it, you need to make sure it isn't at the end of its season.
7. Can I buy the sample?
Sometimes you can buy a sample and even get a discount. Keep in mind this dress had been tried on by many people and there may be rips or stains on it. The worst that can happen is they say no or you need to clean it a little.
8. What accessories look good with this dress?
The consultant will know this. Is the dress simple so a big statement piece will pair well? Or is the dress a statement piece o nits own and something simple is best?
9.How many fittings will I have?
Usually you will have 2-3 fittings, but depending on how many alterations you plan to have, you may need more.
10. Do I have to wear undergarments?
There are so many different types of undergarments to wear with your dress that you should definitely take the advice of the consultant.
11. What happens if I change my mind?
You WANT to ask this question. You may think you have found the dress of your dreams and then unexpectedly come across something else.
12. When do I pay the balance?
Some bridal shops only take a deposit and then you pay when the dress comes in or upon pickup. Others you pay for everything up front. This plays into questions #11.
13. Will the dress be steamed?
Do not assume that they will steam your dress before pickup. Many shops will charge an additional fee for this so if you want it, make sure to ask for it.
14. Will this be functional in real life?
Can you walk down the aisle? Can you dance the night away? Can you sit down!? These are all questions to ask yourself and test out while in the dress.
15. How do I put on my gown?
This may seem silly, but the last thing you want is to have 10 minutes until your ceremony and you cant figure out what buttons go where. Some dresses will be more complicated than others.
16. Whats the best way to store and transport my dress?
You will always want to store your dress in a cool dry place. If you need to fly with your dress, always carry it on. Luggage gets lost sometimes and that would need be a good item to end up in California when your wedding is in New York! Yikes!
17. Am I missing anything?
The bridal consultant may have suggestions to help you. For example: Some of those buttons are super tiny and there is a tool to help you with that.
Be sure to ask these important questions and any others you can think of. I am sure they have heard them all!
https://www.facebook.com/theknot/videos/10156242430719014/
https://www.theknot.com/marketplace/gold-canyon-golf-resort-and-spa-gold-canyon-az-442626
See you Soon!